Cob Oven & Benches at Quinta das Flores on São Miguel Island, Azores (Portugal)
August 13, 2023 ∞ 4:00 pm

-

August 19, 2023 ∞ 5:00 pm

$600
OUR HOSTESS
Ana Henrique is a Portuguese,  passionate woman living in the middle of the Atlantic Ocean in a paradise called Azores. Her formal skills are tourism management and regenerative  agriculture.
She lives in Quinta das Flores, an 8,600m2 orchard, located in Ribeira das Tainhas, a small parish in the Municipality of Vila Franca do Campo, where she and her young son Francisco, grow most of their veggies and fruits. At the moment they are introducing more biodiversity and polycultural strategies for more resilience and security on their food production system. Permaculture, Agroforestry and Biodiversity protection are the main action guides in their garden and life.
Her love for the natural world led her into a great passion for herbs and plants. She is very curious about living food potential to nurture and heal the body and soul. Ana believes in natural, unpolluted, authentic food production as a healing instrument for individuals and communities. One of her dreams is to plant a giant Food Forest that can inspire and nurture others, encouraging them to step forward and embrace Earth Care. Natural soap is also one of her passions, integrating her paradigm shift of desiring a beautiful and healthy planet. She is passionate about holistic and systemic thinking and believes in the potential of regenerative behaviors, such as love, friendship, companionship and trust.
Ana has been waiting to build her Cob Sanctuary since 2017, when she first met Claudine while cooking for her first cob workshop in the Azores.  Finally she is READY!
THE LOCATION

Vila Franca do Campo is the 4th largest town on the island of São Miguel, the largest  and most diverse of the Azorean islands of Portugal.  It is located in the central section of the island with great access to an offshore islet (see gallery below) for swimming and snorkeling/scuba diving/kayaking, wonderful hiking in all directions, hot springs only 20 minutes away in the famous town of Furnas, and an almost private small black sand beach just a 3 minute walk from Ana's property, Quinta das Flores.
Students will have 5 weekends plus before and after the workshop to explore the natural wonderland of São Miguel with a variety of hot springs, hikes, restaurants, surf spots, biking, rock climbing, museums and three incredible botanical gardens!!!
Ana loves to take people around to visit her island and if he isn't too tired she may borrow her parents' 9-person van to take students around on the weekend.  Students can also share a rental car (reserve EARLY for good rates and availability), use the bus system or rent bikes for the 5 weeks.
Quinta das Flores is also a wonderful refuge from the world with its endless citrus groves, permaculture gardens, flower gardens.  Students will be very fortunate to experience 5 weeks on Ana and her sons' Quinta in summer with all its abundance and variety of healthy produce…not to mention Ana's unforgettable meals! Forget about the COB;)!!!
THE PROJECT
Under the expert guidance of Chilean natural builder and architect Nicolas Pimentel, students will build a beautiful Cob Oven as a centerpiece for an outdoor eating area with artistic sculpted Cob Benches and, time permitting, a work table and wood storage area.  Students will start from the lava stone foundation and end with sculpting and plaster and ideally, a pizza party!
WORKSHOP DESCRIPTION
The Cob Oven & Benches Workshop consists of 7 days of learning & construction for 4 hours in the morning and 3 hours in the afternoon with theoretical instruction (lectures with graphics) to complement the hands-on experience.
Students arrive on Tuesday August 15th, 2023 between noon and 2pm and settle in. The workshop begins at 4pm with the Opening Circle followed by a Host Site Orientation and Introduction to the Project. Dinner is served at 6pm, and will be followed by an Introduction to the 7-day Workshop by the Instructor Nicolas Pimentel.
Wednesday morning we begin digging the trenches for the Oven & Benches Foundations and building them!
Following Breakfast from 7:30-8:15am, the morning learning/building session begins at 8:45 am and lasts until 1pm with a 20-minute snack pause at 11am. Lunch break is from 1pm to 2:30pm, which  includes a rest time before the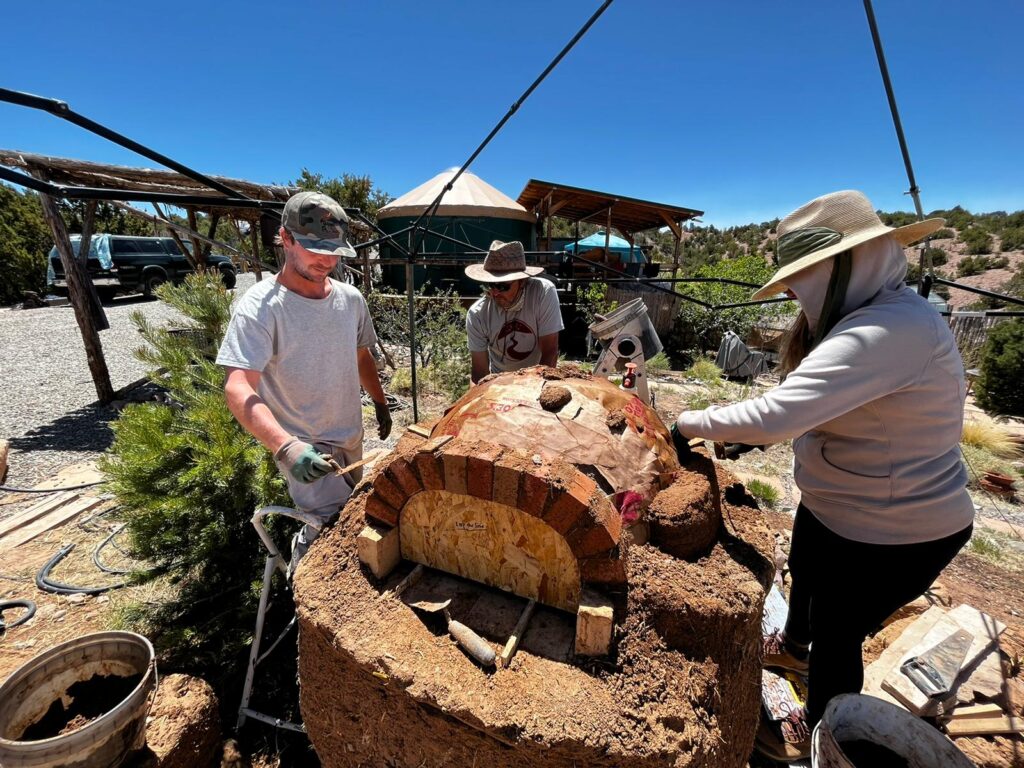 3-hour afternoon session begins. Monday, Wednesday and Friday there is a 60-minute lecture, followed by construction time. Tuesdays and Thursdays students begin building again after the rest time.  After class in the afternoon there is a 90-minute break before dinner, in which students are encouraged to stretch, do some type of relaxation/movement practice, go swimming if possible, and just relax. There is sometimes a work trade student officially or informally leading yoga and movement practice in the mornings or afternoons (depending on student preference). There will also be 1 evening after dinner for showing slides and having Course-related discussions. Other evenings are free and sometimes students offer informal courses in their specialties and passions. We will have a Council Circle on Friday evening. In the afternoons after class students can go swimming at the nearby beach and kayaking to the islet.
DAILY SCHEDULE
The Cob Oven & Benches Workshop begins on a Tuesday at 4pm and ends on a Tuesday, 1 week later, after the morning Closing Circle & Brunch. Students can arrive a day before to acclimate and settle in (please let us know) but will need to cover their own food needs unless a work trade is approved by Host.
The daily schedule (subject to slight modifications due to climate/time of year) will be:
8:00-8:45 Breakfast
9:00-1:00 Class
1:00-2:30 Lunch
2:30-5:30 Class (Lecture on MWF's)
5:30-7:00 Rest/Yoga
7:00-8:00 Dinner
8:00-9:00 Slides/Videos/Discussion on Wed or Thurs
Students are expected to be on time and participate in all sessions and required activities as the goal of building a full construction depends on the whole group working together!
COURSE CONTENTS
Students will learn to make cob and build an oven and benches in hands-on building and lectures/theory. In addition to the lectures, slideshows will be shown to support and enhance their understanding of cob materials, cob building, and design.
Our hands-on practice will include:
digging foundation trenches
pouring gravel and inserting drainage pipe (if applicable)
building foundation stemwall
analyzing soils and materials
making test bricks
deciding on correct mixture
deciding on best location
making cob w/ partner and solo
building with cob
making decorations in cob
sculpting
preparing and applying earthen plasters (1 coat)
REQUIREMENTS & IMPORTANT INFORMATION
Students will need to come prepared for physical work from Day 1.
This includes bringing:
Work clothes appropriate for the country and climate we are in
Work boots or other closed-toe shoes (for foundation and roof)
Flip-flops (for cobbing/plaster days)
Rubber dishwashing gloves (for lime mortar)
Work Gloves
Tape Measure
Two-foot Level
Rounded triangular trowel
4"-6" Diameter Round Plastic Container Lids (for plastering)
Good Moisturizer
Hat
Sunglasses
Safety Glasses
Water Bottle
Notebook/Pen/Camera
Sample of Your Soil (Optional)
INSTRUCTOR
Nicolas Pimentel (Cob Instructor)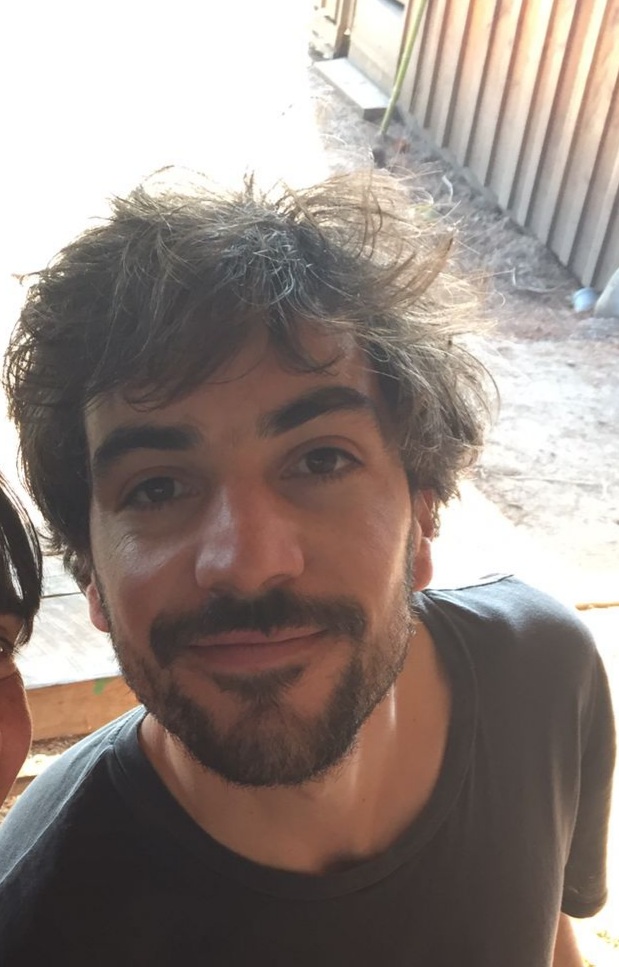 I was born and raised in Santiago de Chile and went to Architecture School. At the end of my studies, I travelled to Portugal to study Arts, and somehow I learned about natural building and a completely new perspective came to me. I took a CruzinCobGlobal workshop with Claudine in the Azores in 2017, and my life changed by learning this new technique.
After 2 years, I went back to Santiago to finish Architecture School, and specialized in BioArchitecture. I continued assisting workshops with Claudine in different places, while developing my own project. I built my "natural" home in 2020 in Pucón, south of Chile, where I am rooted now. I am involved with different projects nowadays, and have my own architecture studio and also participate in other projects related to nature, conservation, arts and tourism. I love to live surrounded by nature, mountains and good people.
MEALS & ACCOMMODATIONS
Students will have 3 delicious, hearty vegetarian meals a day.  There will also be a Welcome Dinner on Tuesday night, a Celebration Dinner on Monday night, and a Goodbye Brunch on Tuesday morning after the Closing Circle.
Students will be camping onsite for this workshop in their own tents or can inquire about renting a tent from Ana for 3€/night.  There will also be five indoor mattress spaces in a communal room for 7€/night. All students renting should bring their own sleeping bags. Pillows and blankets can be provided.
Students can also stay offsite in local accommodations but should be within easy walking distance.  Check Airbnb.
More information will be sent a month out in the Welcome Letter and students are also welcome to contact Ana our host once they are registered.
TRANSPORTATION
The arrival airport is PDL (Ponta Delgada) on the island of São Miguel, Azores, Portugal.  The airlines that fly there from the US are SATA/Azores Airlines, TAP, United and Delta.  From Europe take SATA, TAP or RyanAir.  There are no ferries to the Azores, but you are welcome to find a private boat sailing here! Just dont be late for Day 1!
Once you arrive at the airport, or will be in Ponta Delgada before the workshop starts, we will be organizing a shuttle on Tuesday to bring everyone to the site.  Otherwise there is a public bus or shared taxi.  It is recommended to arrive a day early for the US folks, to get adjusted to the jet lag and new climate and visit the island before the workshop starts.
REGISTRATION
Thrifty Bird Rate : 650€, pay in full by March 15th, 2023
Chill Bird Rate: 700€, pay in full by May 15th, 2023
Super Chill Bird Rate: 750€, pay in full by July 15th, 2023
Payment includes tuition, camping and weekday meals plus first and last dinners and last brunch.
To register, please email claudinedesiree@gmail.com or send standard text or Whatsapp text to (831) 212-7225 with your email address to receive the two registration forms.  Payment can be made by Zelle, Venmo and Paypal using claudinedesiree@gmail.com. With Paypal, please check the "Send to Family and Friends" box or add 3% for the fee. If you are using a credit card with Venmo or Paypal please add 3% for the transaction fee. Venmo ID is @claudine-desiree. You can also use the Wise app or website for international low-cost transfers.
European students and others can make a bank transfer or use Wise as well.  Information will be provided.
It is preferable that you pay in full when you pay however 50% deposit is required to hold your place with the rest due by July 15th at the latest.
We always offer 2 work trade discounts of 70€ each for an hour of work each class day.  There is one kitchen work trader who prepares breakfast from 6:30-7:30am and one work trader that does site prep from 6:30 to 7:30am. If you want a work trade, please email or text Claudine (contact info above). These are first come first serve.  Payment should be made in full or 50% deposit to hold your spot with final balance due by July 15th, 2023.  Note that the work trade discount is applied to the amount that is being paid off in full.  So if you are making your payment in full by the Thirfty Bird date, it will be deducted form that rate. If you pay in full after the Chill Bird deadline, then it will be deducted from the Super Chill Bird rate. Please see work trader cancellation policy below.
CANCELLATION POLICY
Students who cancel before June 15th, 2023 will receive a full refund minus a 5% administration fee or a credit for another workshop within 2 years.
Students who cancel after June 15th, 2023 and before July 15th, 2023 will receive a full refund minus 10% admin fee or a credit for another workshop within 2 years.
Students who cancel after July 15th will not receive a refund or a credit unless they have proof of  an emergency situation beyond their control, in which case they will receive a credit to be used within 2 years, minus 10% fee.
*Work traders who cancel after June 15thth will receive a refund of what they have paid minus 70€.
EXCITED TO COB WITH YOU IN 2023!!!